Smoked Salmon Dip is a staple if you're looking to spice up your appetizer game! When we (The Thomet Family) bring it out on the table it usually doesn't last more than 15 minutes, and for good reason, it's just delicious! Perfect for any time of year or occasion, smoked salmon dip shows your guests you take your food seriously and are willing to go all the way to the Last Frontier to do so! We're kidding, we do that part for you, but still, it's an impressive appetizer. From Thomet & Co. Salmon, we hope you enjoy!
Thomet Family Smoked Salmon Dip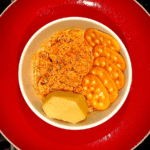 Take your appetizer game to another level with this showstopping dip!
3 Packages Thomet & Co. plain Alder Smoked Salmon
⅛ cup Mayo
1 tbsp Dill Weed
⅛ cup Diced jarred jalapenos
⅛ cup Diced onion
½ tsp Garlic powder
Dash Black pepper
Mash Mayo and smoked salmon together until it resembles your desired dip consistency

Dice jalapenos and Onion and add-in

Add the rest of the ingredients

Grab some Triscuits, or ou cracker of choice, and watch your guests flock!