My first experience with fishing started when I was around 8 months old. My father had me kiss the first salmon of the season and release it back into the ocean, as is tradition for bringing in a successful year's catch. Every year from then on around the 1st of June, my mother, father, two crew members, and I would load up our two homemade 23-foot aluminum skiffs (boats) and our wooden 1937 Bristol Bay "double-ender" Holding Boat. Packed with 3 months' worth of dry goods, 39 hours of fuel, and a bag of Kirkland Signature trail mix, we'd take off from the Kodiak, Alaska Boat Chanel for a 13 hr. ride to our Set-net fishing site in Uyak Bay, AK. Sometimes the weather was great, sometimes not. Sometimes I spend the whole trip seasick, wondering what kind of parents would do this to a child. But, as many know, a little discomfort and dirty work often lead to the best life experiences and character-building a kid can get. Growing up with such in such a unique environment is something I can't imagine not experiencing.
                    I continue to work in the salmon fishing profession and have branched out to explore other corners of the industry in Bristol Bay Alaska, the world's largest and most sustainable wild sockeye salmon run. The lifestyle of a fisherman provides fuel for the mind, and the salmon provides the fuel needed to keep the body ready for the next task. To me, salmon is a tie to my upbringing, as well a the direction I plan to direct my future; it is a lifestyle that I will always cherish.
I started Thomet & Co. Salmon to provide a high-quality product that passes through the least amount of hands possible before arriving on your plate. I believe if you're going to eat, do it right and fuel yourself with the best that nature can provide. From the crew of the F/V Balrog, we hope you get the same taste that has fueled a passion in fishermen all over Alaska for decades!
Levi Thomet
Owner and Fisherman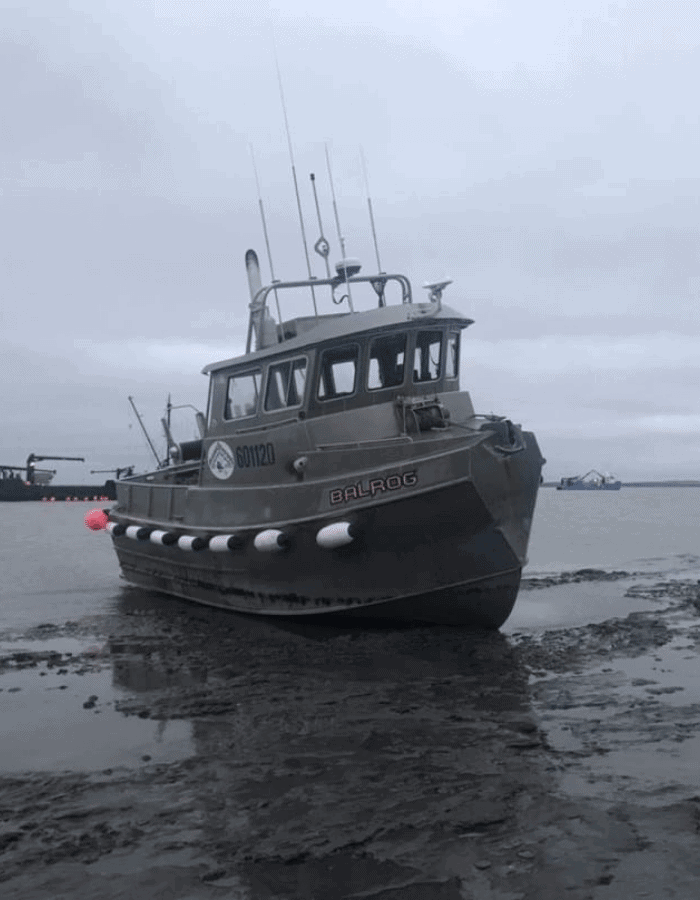 Our Mission
Thomet & Co. Salmon provides premium quality direct market sockeye salmon and seafood products harvested on the F/V Balrog.
We work to provide customers with a product that surpasses the utmost quality, while ensuring our salmon is sourced and harvested in a method that puts ecological responsibility first, striving to maintain a fishery aimed at long-term growth and prosperity.
Our Boat
The Fishing Vessel (F/V) Balrog (on the left) is an aluminum 32' Drift Net stern picker (the fish come over the back of the boat!)
Our Crew
The Balrog crew consists of four fishermen; the Captain, Permit Holder, and two Crewmembers. Everyone takes part in handling and picking the salmon, putting in equal effort to make sure the season goes as smoothly and safely as possible. Whether it be handling breakdowns, maintenance, keeping the deck and rest of the boat sanitary, or taking wheel watches while the rest catch up on sleep, with any dangerous job, it is vital that everyone on deck and in the wheelhouse have each other's backs and be constantly on the ball when things (and they always tend to) get a little hairy.
All of us love the work we do and the constant action that comes with fishing in Bristol Bay.
Our Vision
We look to expand our customer base throughout the restaurant, casino, and catering businesses in an effort to provide establishments with salmon that has niché marketability and upholds close relations with the fisherman responsible for the salmon's harvest. We look to keep young fishermen entering into the salmon industry by promoting both a promising future that fishing can hold for those who wish to get in and showing the world that Bristol Bay maintains its waters through strict regulation. Looking forward, we hope to build our brand, and the brand of Bristol Bay into a world-renowned entity that showcases its specialty through its superior quality, responsible harvest methods, and hard-working culture.
Our Model
Our salmon are harvested exclusively from Bristol Bay, Alaska the world's largest sockeye salmon run. As quality is the main focus of our business model, we implement strict handling practices to ensure you revive the fillets we are to provide, and you as a salmon lover can be proud to receive. Read more about our fishing process.
testimonials
"Five Stars!"
"
Great Salmon! The texture feels like it's fresh out of the water, and it cooked up beautifully! ~ Matthew Maton

"
Wanted to let you know about the fabulous dinner I had last night. Baked salmon with lemon garlic butter, sautéed butter, asparagus, & crisp salad. By the way, the salmon was beautifully packaged! ~ Janet Willisford

"
You can't get this good of salmon at the store, best sockeye I've had! ~ Tanner Anderson