Grilled Salmon is an Alaskan staple. It's easy to prepare, and you really don't need many ingredients to create a delicious dinner on a time crunch! While this recipe suggests using soy sauce and cooking sherry as a marinade, there are so many ways to grill up a Thomet & Co. Sockeye Salmon Fillet. You can try marinating it in a sesame oil base for an Asian-themed dish! Or, add in some teriyaki, sriracha, or whatever else your heart desires. Thomet & Co. Grilled Salmon is as flexible a dish as can be, ready to be experimented with and tweaked to meet your preference! Enjoy!
Thomet & Co. Salmon on the Grill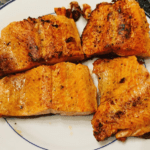 Easy to prepare, simple to cook. A basic delicious grill recipe that will always win 5 stars
1 cup Cooking Sherry
1 cup Soy Sauce
1/2 bulb Garlic
1/3 stick Butter
In a large bowl, mix a 1:1 ratio of cooking sherry and soy sauce

Cover portioned salmon with marinade and let sit for 1 hr

Heat grill to medium-high and place salmon skin side down until skin is crispy and salmon is pink all over

While salmon is grilling, sautee the garlic and butter until the garlic is softened but not brown and set aside.

Flip salmon and sear for approx. 3m.

Check the middle to make sure the salmon is pink all the way through.

Once off the grill, spoon the sauteed garlic on top of the portions and enjoy!